Granny Flat Parking Guide
Parking – Lets design for the future
Parking is an important aspect of any development and with granny flats growing in popularity across the entirety of Sydney (and beyond), the issue of parking is often overlooked. You only have to drive into the inner city to see how valuable a good parking spot can be. Even outside of the CBD. some people are complaining that their street is getting more congested with granny flat parking spilling out onto the street. Whilst it's nowhere near as bad as parking in the city (just try and park near one of the cafes or pubs!), good parking can't be ignored when designing and siting granny flats. This is true no matter where you or your tenants will live. At Granny Flat Approvals we look very carefully at how we can achieve every goal you have for maximising your rental returns and great parking, good access for cars and pedestrians is another area we focus on. It's important to provide parking in a safe and cost-effective way, too.
Granny Flat Parking – what does the SEPP say?
When it comes to granny flat parking, the Affordable Rental Housing SEPP is quite clear on what it demands from developers: "There is no requirement that additional parking spaces be provided in respect of development for the purposes of a secondary dwelling." Now that may seem like a get out of jail free card BUT we should be mindful of the spaces we're removing as well as what the legislation is prescribing. It's smart business to create parking for your tenants wherever it's practical and it's a point of difference your competitors will often forget. So remember to design and site for smart parking. Your tenants will love you for it! Parking – Don't let it come to this!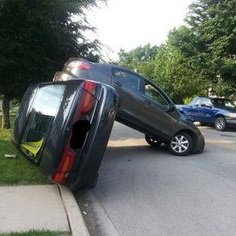 Good Parking Design – The Basics
Whilst it's impractical to go into every detail of how we design for good (if not great) parking facilities, it's important to recognise the need for it. There are a number of ways we can accommodate extra cars and, depending on the geometry of the block, we can provide for extra parking in the rear yard, the front yard and sometimes even one of the sides of the main dwelling. It's also important to allow for uninterrupted flow of cars (traffic) in and out of the property plus a suitable turn area. We need to also consider the marriage between vehicle parking, vehicle flow and pedestrian flow, especially for the safety of young children. This can be done with good splayed fencing, a logical layout and even mirrors or parking bollards if need be.
There are many investors looking for granny flat friendly properties but it's the savvy ones who think of every aspect of a granny flat's design. Providing for smart Granny Flat parking is no exception.
Here at Granny Flat Approvals, we have the experience and development background to advise you about designing for the best possible parking arrangement which is specifically tailored for your site. Feel free to ask us about parking when you speak with us. We'd be happy to share our ideas and templates for you to make the best decision possible.
Warm Regards,
Serge Panayi – Granny Flat Approvals Sydney
About the Author: Serge Panayi is the Owner and Designer at GrannyFlatApprovals.com.au. He regularly contributes to national development workshops and forums on residential development in Sydney.